Don't Panic, Instead, Live a Life of Truth, Clarity and Calm – and Abundance Will Prevail.
I believe in the cliche', if you build it they will come — gasping? I know…wretched, but true. I believe in this overused term, of course, until my own panic sets in and fear leeches into my psyche!
I battle this most everyday. Artists and writers everywhere face this demon.
I recall one of my favorite cartoon characters, The Great Gazoo from The Flintstones. Gazoo represents this emotional, spiritual, crises of the conscience. A little space alien, appears above Fred's shoulder. He's lecturing him on — what's right and wrong/good and evil — evoking fear and panic in Fred's mind, playing upon his guilty conscience.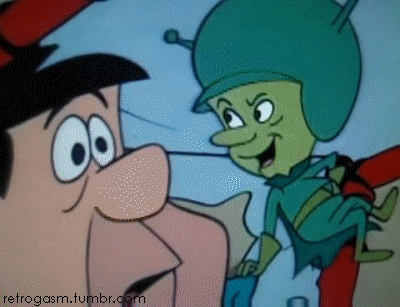 Abundance comes in many forms. One thing is certain, if you panic, abundance becomes restricted, delayed, suppressed. If you start the day with clarity of purpose and faith in your ability to remain calm, things begin to manifest. Abundance presents — not as money (however, it can and many times does) but as flow.
What is Flow?
It is the excitement and expectation that what you create today is good, purposeful, beautiful, delicious, charming, in fact —  it's great!
Haven't you had this experience?
When you paint, write, sing, cook and everything you create is amazing!
That's flow –that's abundance — that's money!
Photo by David McBee from Pexels
Abundance shows up as a peaceful knowing that your spirit is free. Creativity is purpose and innovation. You will have gratitude for your clarity, joy in your creation — that's the ultimate reward!
When the juices are flowing you feel the most alive. I do.
Panic, worry, doubt and fear — these feelings present as a spiritual crises of your soul. Your flow stops, sputters, chokes, and your creativity/abundance — stifled.
These feelings happen to me on a regular basis. Anxiety sets in — am I wrong? Should I, would I, could I? — blah, blah, blah. This is the look on Fred Flintstones face, the anxiety and panic. He thinks, am I making good decisions? Struggling to regain his sense of clarity, his sense of spiritual truth.
Truth is… making art/writing/being creative, sets my personal point of reference back 'True North'. I wrestle with my anxiety by creating my art. If I surrender to the flow, the spirit, the force, the magic — however you want to label it — abundance prevails. Making art/writing/being creative, has been the 'set point' in my life. Without this clarity, this purpose, I would fail miserably in life.
I struggle with this strange notion that if I'm not working a job, bringing in lots of money, then, what I do isn't legitimate. After all, society perpetuates and rewards this ideology. This truth has been hard to digest at times. However, by seeking calm and clarity (and most important) by keep building and tending to the garden of my creativity — I know the fruits of my flow is the reward. 
Like Fred, The Great Gazoo is with me. As good spiritual leaders do (okay, okay he's a cartoon character) but I like him, whatever it takes… Gazoo is with me, helping me to find clarity, calm and truth. I won't surrender to panic and fear, rather, I will use it to forge a path to greatness, a path to abundance.
Photo by Frans Van Heerden from Pexels